I thought those stamps in Studio Calico can wait. But no, they wait for nobody!
I've been eying for this "coffee stain" stamp:
I've already been thinking on where and how to use it in my layouts. But it is all gone now. I guess I'll have to really use a real cup for the effect.
There is another thing that I'm eyeing for – Martha Steward butterfly punch: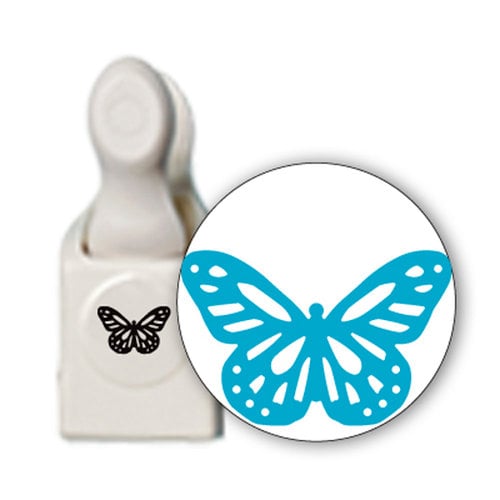 It is definitely worth it to buy together with my monthly kit, since they'll be shipped together. As for now, if I buy them, they'll work out more expensive than getting it from the local scrapbook store, even though it is still another online store.
I'm happy though, 'cos today I receive my June kit, and Joy is so kind to get me some goodies together with my purchase of the red mist, 'cos they run out of the pink mist that I wanted, they have even refunded me and yet still giving me goodies, so sweet of them.
I'm looking forward to play with kit, together with my Scrapbook Deals4U June kit, Basic Grey page kit, wow! I've got a handful actually and I'm out of inspiration and photos to scrap.
I've been so lazy lately to take photos .. and I've just missed the chance to earn some point from the Summer Camp Rock in Scrapbook Deals 4U, 'cos I forgot to load my layout in the gallery. I'm looking forward for another challenge.
I am in the middle of doing a mini album for "Today You" as well, one that I hope my boys will love and cherish. But I haven't decided what photos to use yet. Finger crossed, and sure will share about it here.